How Not to Look Boring at Work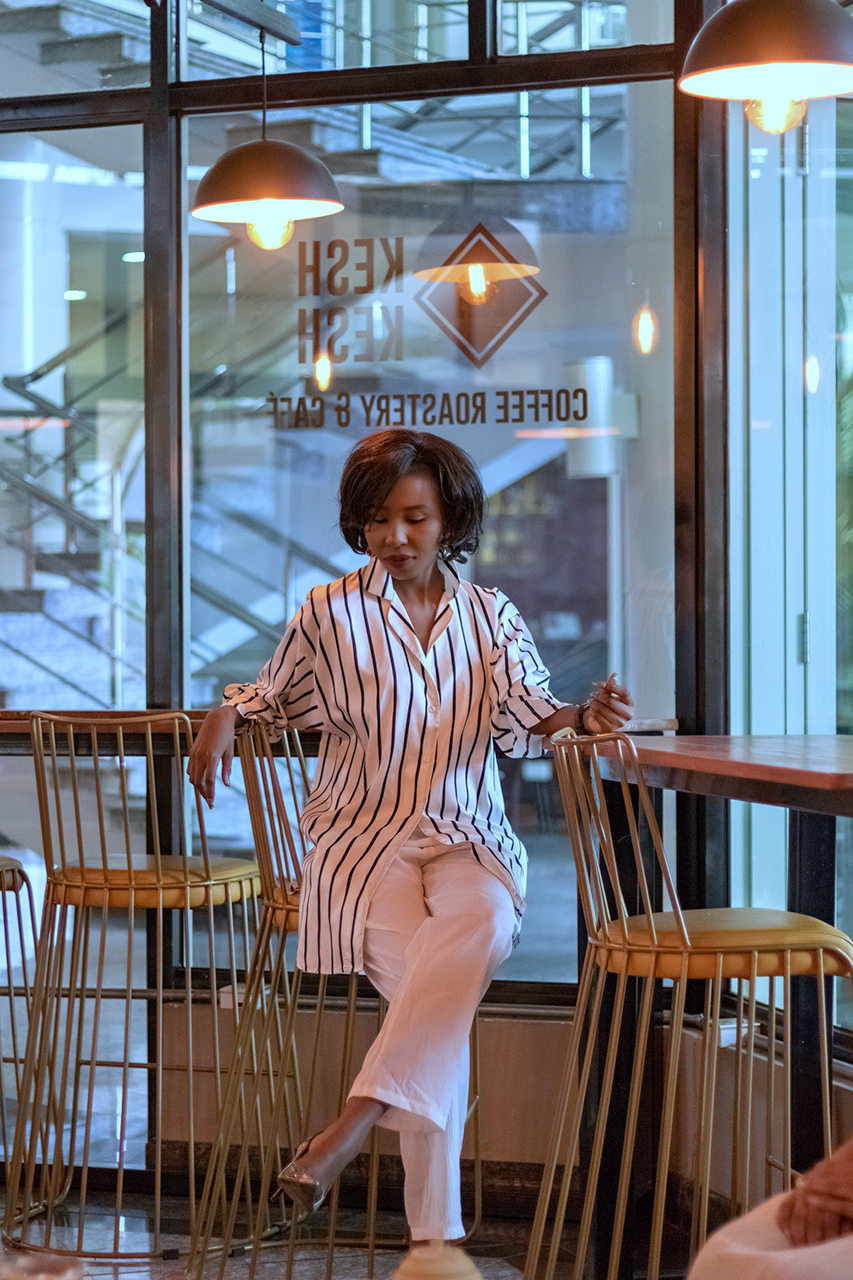 If you're like most women, dressing to the office can be quite the task. It's one thing when you need to look sharp a few days of the week and another when it's on a daily basis, and in a controlled environment.
Most women tend to opt for the easy way out by investing in dark suits and pants, and pretty much not thinking about their daily office look. Most times you find they have office wardrobe and out of office style. Those two don't need to be different. 9 out of 10 times the office wardrobe is usually boring. No wonder we've got so many disgruntled faces walking around because you're already tired before the day begins. People don't seem to know the relationship between looking good and confidence.
In my work as a stylist, I find people tend to look more radiant, confidence oozing out of them, and feeling like they can tackle anything on days when their wardrobe is good. This in effect is translated to their office engagement and productivity is boosted.
So just how can you make your office look work for you? How can you change from 'What do I wear' every morning to "Yes, I know exactly what to wear today?"
1. Invest in minimalist pieces. Think neutral hues with clean lines. These are easy to wear & style and can be switched up any moment.
2. Invest in statement pieces. This can be a bag, shoes, accessories, or coat. Throw this on on days when you don't have much time to play dress up or days when your outfit is toned down.
3. Play around with colour. Colour has a direct effect on how we feel & act each day. I'm not saying you now go rogue with all the colours you know. Remember this is an office setting & less is more. Just a pop of it is enough.
4. Get well fitted pants/skirts in different colours that you can play around with each time you wear them.
5. Understand your work environment. What is the dress code in the place? Add a personal touch to the recommended dress code at your place of work.
6. Fridays don't necessarily mean jeans and sneakers. Dress up your denims by wearing a statement coat/blazer, a nice shirt or printed tee, and heels for that casual business look. Just because it's Friday doesn't mean business has stopped. You might be called out to an urgent meeting & you need to always be ready.
One thing to note is that this doesn't have to be a chore. Make it fun by taking it a day at a time and wearing pieces you're comfortable in and work with your body shape & size.
Don't just win on the career side & neglect your image. These two come as a package.
PS: Research has shown that women who look good in the office have a higher chance of being promoted.
So what are you waiting for? Get that money. Meanwhile, let me show you one way to dress chic for the office with a simple monochrome look that highly elevates your look.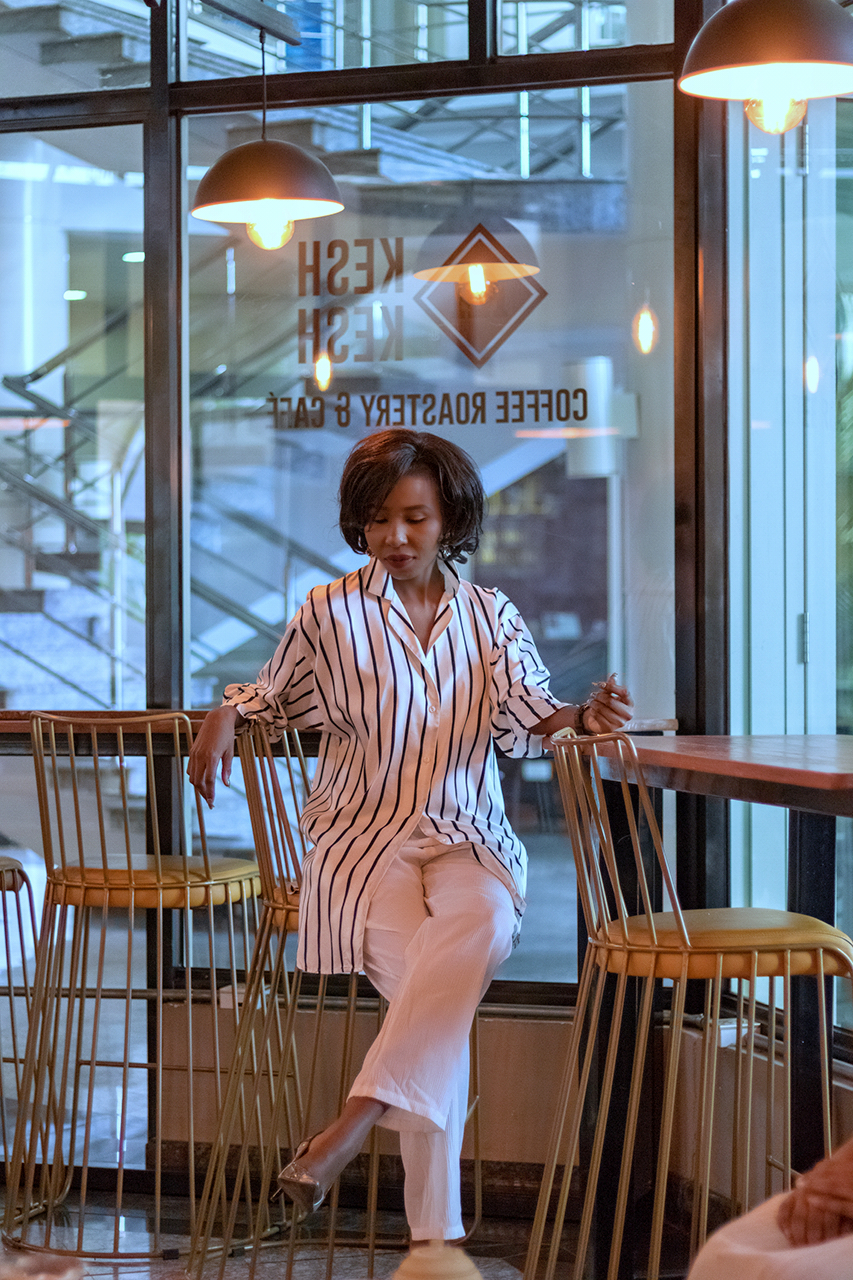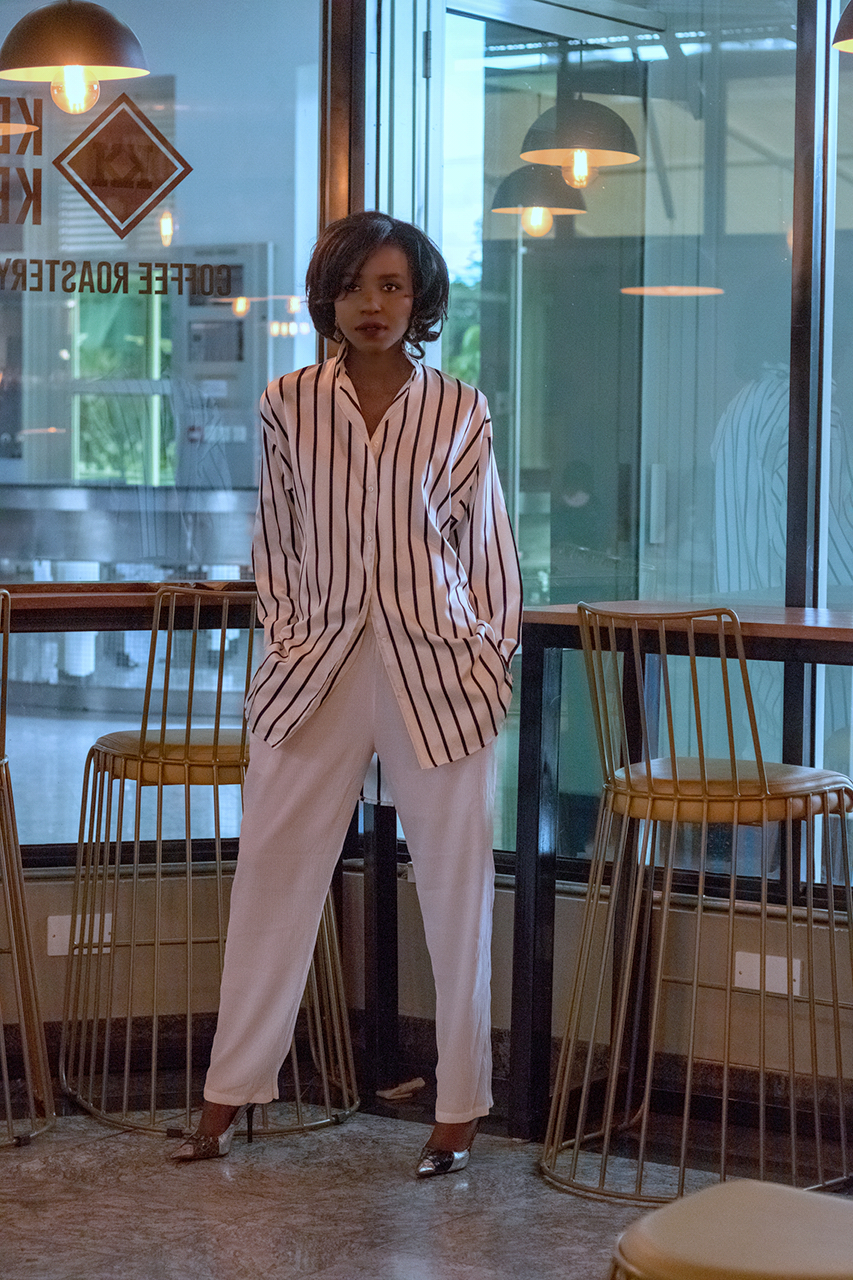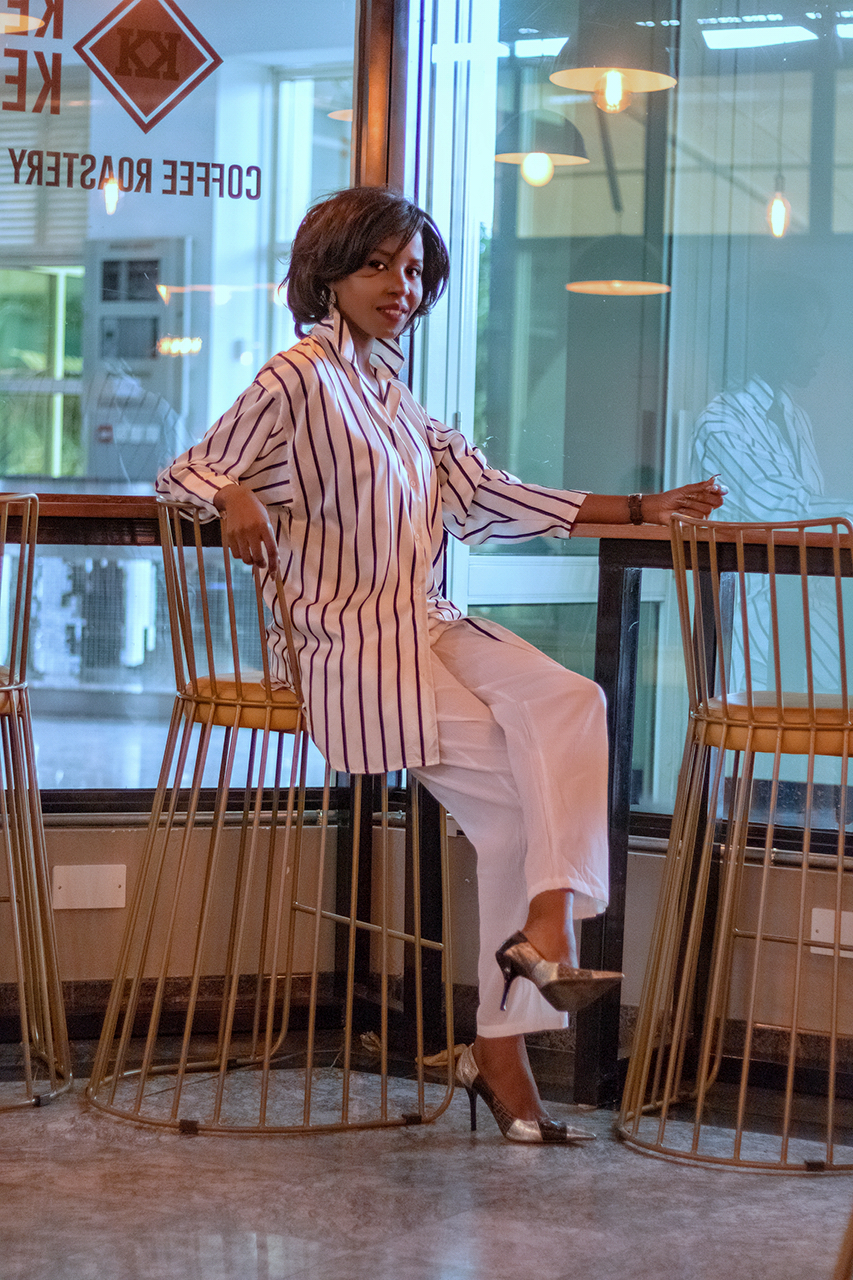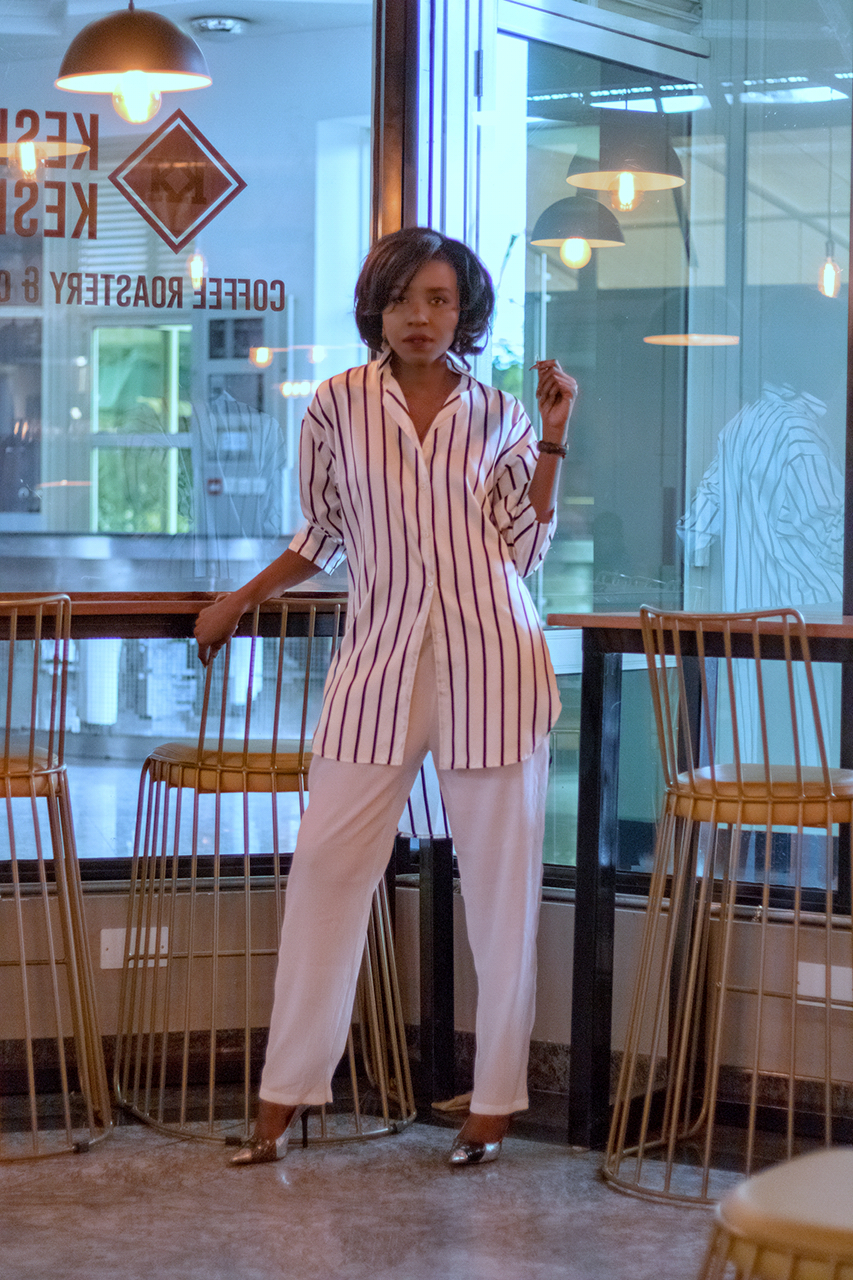 See how this is an easy look to achieve?
Top: @dandestyles
Pants: @vostilook
Shot: @kiariikimaniphotography
Location: @keshkeshspeciality
If you need help with your office wardrobe drop a comment, tell me what is you struggle with most, or better still, hit me up via mail [winnie(at)dandestyles(dot)com]. Let me also know what it is you'd love for me to talk about.
Let me help you work on your image.
Keep it dande by following me on instagram: @winnie.odande.
                     #dandestyles